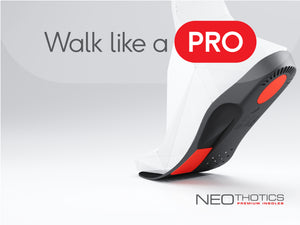 Care for your Feet with neo g
At Neo G, we develop products to help with foot injuries and conditions, from bunion products, to diabetic comfort socks to plantar fasciitis support with our Plantar Fasciitis everyday support. Our NeoThotics orthotic insoles have been developed in conjunction with leading podiatrists to help combat plantar fasciitis, flat feet/fallen arches and associated pain in other areas of the body caused by misalignment of the feet.
MEDICAL QUALITY
Neo G products are designed by orthopaedic professionals and registered as Class 1 Medical Devices.
TRUSTED BY PROFESSIONALS
Neo G is proud to be an official worldwide partner with The Chartered Society of Physiotherapy, the UK equivalent of the APTA.
TRIED & TESTED
Neo G is a trusted high street brand with over 1 million supports sold and thousands of 5 star reviews.